Design Boutique & Romantic Hotels in London, England
Sort by price: Lowest | Highest


Super stylish and an excellent alternative to the luxury hotel concept.
Wow, how cool and stylish can you get? Imagine you want to stay a week...



It may not be the top of the range or the most intimate of our London selection (it has some 140 rooms), but it is smart, clean, friendly, good ...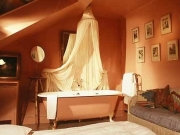 From the outside you have no inkling what to expect, it looks to be just another sumptuous mansion in the middle of a white Victorian terrace ra...