Medium Budget Boutique & Romantic Hotels in Paris, Paris, France
Sort by price: Lowest | Highest

Charming family run old world hotel in the heart of Marais.
So you like culture, history, museums, shopping and an atmospheric place to stay t...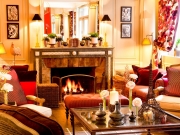 Being located in the 6th "Arrondissement" (or district) of Paris, the Hotel le Saint-Beuve certainly strikes an intellectual note, as this area ...

If Paris is many peoples idea of the perfect city, then the Hotel Thérèse could be the hotel with the perfect location.
Situated on the Right ...