Medium Budget Boutique & Romantic Hotels in Drôme, Rhône-Alpes, France
Sort by price: Lowest | Highest

There is in Provence a hidden jewel divided in 4 different locations in the historical village of Grignan – Le Clair de la Plume. You will feel ...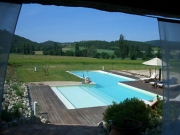 Luxury Bed & Breakfast.
Luxurious, discreet and quite stunning is how we would initially describe Le Prieure des Sources. Located at the foot ...