Romantic Boutique & Romantic Hotels in Chania, Crete, Greece
Sort by price: Lowest | Highest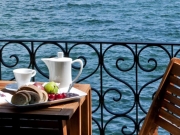 The Mama Nena is stylishly modern, yet historic (see below) and located along the waterfront in the Venetian port of Chania. It is also hospitab...


Chania is a lovely old town, blessed as it is with great architecture which mirrors the ebb and flow of many cultures that have made their home ...


Initially a family farmhouse from the 1800s consisting of three separate buildings, Verekinthos Villas is one of those places with an interestin...