High Budget Boutique & Romantic Hotels in Milan, Milan, Lombardy, Italy
Sort by price: Lowest | Highest

The Brera Apartments are located in a beautiful area in the heart of Milan: the most peaceful part of the historic Brera district. Since the 19t...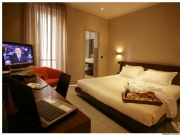 A cool and trend setting Milan hotel.
The Town House 12 came about following the success of its older sister, the Town House 31. The original ...