Sort by price: Lowest | Highest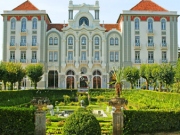 Luxury, Spa and wellness hotel in central Portugal
Built in the "Golden Twenties", the Palace Hotel Curia is one of Portugal's legendary hotel...



The Prince of Liechtenstein upon his visit to Bussaco once said, "In Europe, there's nothing like it. Visiting the forest of Bussaco I felt tran...


The Quinta das Lágrimas, or the House of Tears to give it its English name, fully lives up to its romantic past. One of the most famous love sto...