High Budget Boutique & Romantic Hotels in Lisbon, Lisbon, Portugal
Sort by price: Lowest | Highest


Lisbon is fast catching up with the rest of Europe when it comes to downtown luxury boutique accommodation.
Chiado 16, a recent addition to Li...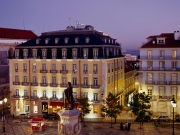 Lisbon finally has a top notch hotel in the cosmopolitan and trendy theatre district of Bairro Alto, from whence the hotel gets its name.
It r...