Value for money Boutique & Romantic Hotels in Barcelona, Spain
Sort by price: Lowest | Highest


If it's cool you are after, then the concept Chic and Basic Born hotel will provide a great introduction to life in Barcelona, as it's the sort ...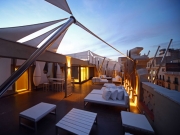 Prices for this hotel are shown as estimates (minimum to maximum). They change regularly depending on a number of factors, including availabilit...


Barcelona seems to have done it again.
One of the newest additions to the city's portfolio of hotels has also instantly become one of its best...