Authentic environment Boutique & Romantic Hotels in Rio de Janeiro, Brazil
Sort by price: Lowest | Highest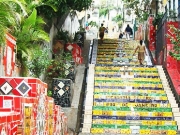 Rio de Janeiro is getting more Parisian with each passing day. By that we don't mean it is losing its unique "carioca" vibe to be replaced by an...



Another beautiful Rio house with a strong French Connection - see below.
The Casa Mosquito (Mosquito House in English) is an interesting name ...