Best Boutique & Romantic Hotels in Bruges, Belgium
Sort by price: Lowest | Highest



" Charm n Bruges " The name says it all really: a charming two room bed and breakfast in the historic centre of Bruges.
The building is a coll...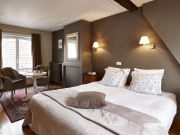 This is a lovely, exclusive guesthouse and is this is also Bruges, so the building itself constitutes a beautiful medieval building in itself.
...
Traveller Tips
Restaurants
Sorry, no tips available yet
Activities
Sorry, no tips available yet
Culture
Sorry, no tips available yet