Sort by price: Lowest | Highest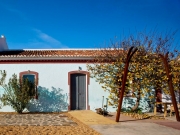 No TV but plenty of nature.
Forty acres of pine, cork and carob, olive trees plus a biological garden give an immediate clue as to what the Co...
Traveller Tips
Restaurants
Tea with Salt Water
Creative cuisine based on local quality produce. Great service, decoration based on the noble material of wood over the dunes in an elegant and inf...
Activities
Sorry, no tips available yet
Culture
Sorry, no tips available yet