Sort by price: Lowest | Highest



The Martinhal must be one of Portugal's leading candidates for a luxury and child friendly getaway (yes, child friendly and getaway are not mu...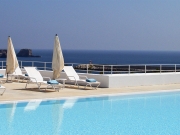 Sagres had until recently two claims to fame. Firstly, there were the Portuguese discoveries of the 15th and 16th century. Sagres was, after all...
Traveller Tips
Restaurants
Sorry, no tips available yet
Activities
Outdoor Activities
Try Diving, Trekking or Biking! Amase yourself with the wonderful landscapes, trails and treasures hidden in the Western Algarve, specially Sagres.
Culture
Sorry, no tips available yet