Sort by price: Lowest | Highest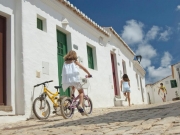 Could this be the way that eco tourism develops in future?
Aldeia da Pedralva is not just a single accommodation or hotel. It's a comple...
Traveller Tips
Restaurants
Sitio da Pedralva
Independent restaurant from Aldeia da Pedralva Hotel.rnRegional Food from Author.rnrnResponsável: Patrícia Pires da Silva e Luís Matos Lima rnrn...
Activities
Nature Activities - Hiking, Surf...
Nature Activities available at the Hotel.
Culture
Sorry, no tips available yet