Sort by price: Lowest | Highest



Those looking to come face to face with rural customs will find the region of Lamego and the Casa de Santo Antonio de Britiande an excellent cho...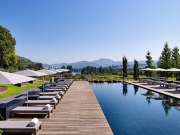 The first hotel's brochure starts off with an apt quote from Einstein: "There are only two ways to live your life. One is as if nothing is a mi...
Traveller Tips
Restaurants
Sorry, no tips available yet
Activities
Sorry, no tips available yet
Culture
Sorry, no tips available yet