Sort by price: Lowest | Highest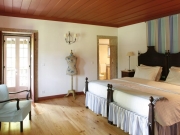 Think of utter peace, simplicity and verdant beauty and you have an idea of what the 17th century house of Quinta da Bouça has to offer.
This ...
Traveller Tips
Restaurants
Sorry, no tips available yet
Activities
Places to see
Viana do Castelo.
Spread along the north bank of the Lima estuary (where one can take trips on typical boats), this town is famous for its handicr...
Culture
Sorry, no tips available yet