Best Boutique & Romantic Hotels in Ribatejo, Portugal
Sort by price: Lowest | Highest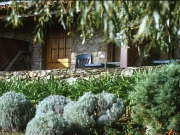 That get away from it all feel.
As you enter by a small tree lined avenue, you'll notice immediately that the Quinta do Troviscal is the pla...
Traveller Tips
Restaurants
Restaurante Sabor da Pedra
Great restaurant with great service next to the water's edge by the dam.
Activities
Passear
Tomar - cidade Templária. Cidadezinha com frondosas árvores sobre o rio Nabão. Da ponte velha e da nova edifícios com história e lendas. O co...
Culture
Castelo e Convento de Cristo
Castelo e Convento de Cristo - construído sobre ruínas muçulmanas passou a fortaleza cristã com a reconquista - nasce a Charola como marco da O...