We adore Austria, and especially its capital. Vienna is a nonconformist aristocrat. It cherishes its glorious historical patrimony without repressing its constant desire for new horizons.
This beautiful city is perfect for a visit any time of the year but July and August offer opportunities you cannot enjoy during the cooler months. Known for its historical and cultural monuments, Vienna is full of surprises and offers many attractions combining authenticity and tradition with modern activities.
Just for you, we looked for some of the best singular things you should do when travelling to Vienna this summer! Be surprised and discover that monuments and museums are not only meant to be visited!
Have a nice barbecue in the Volksgarten Pavillon!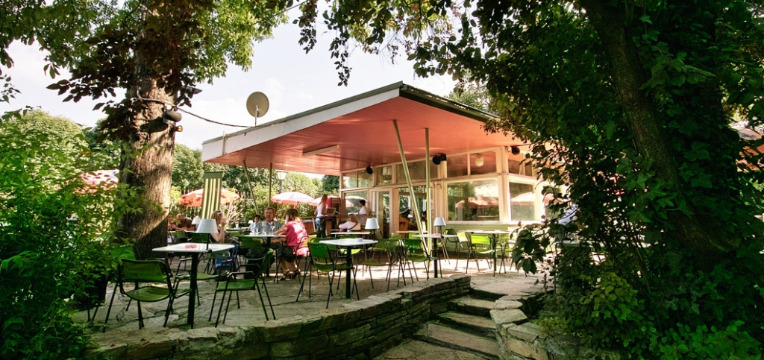 The sun, retro-style furniture, a shady garden, views on the Imperial Palace and the smell of grilled steaks and vegetables… Sounds good, right? When the weather's nice, the Volksgarten Pavillon invites people to cosy BBQ evenings in the open air. This cosy spot is located in the beautiful Volksgarten, which is one of the most secluded areas of the city. You should definitely put it on your Vienna to-do list!
During the summer, the daily barbecue starts around 6:30 and usually attracts many different visitors. Some nice chats, good music and food as well as a lot of fun will for sure await you there. Don´t miss it!
Be amazed by the contrasted Museums Quarter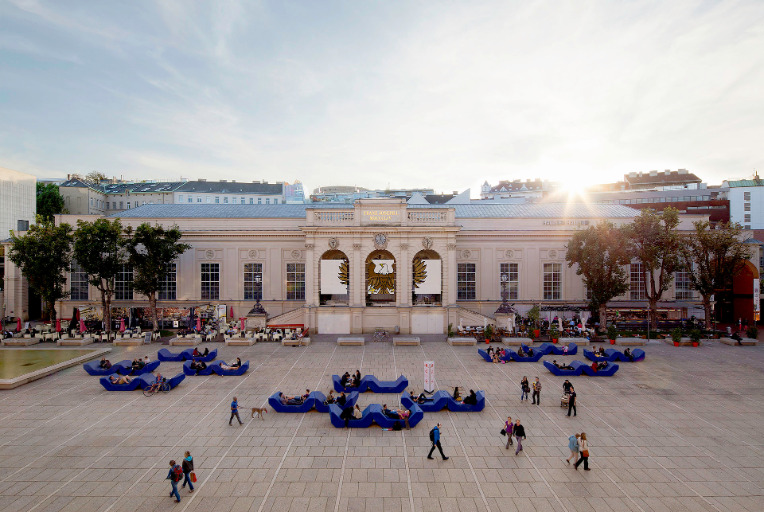 The MuseumsQuarter Wien is one of the largest culture and art complexes in the world. Culture seekers, be ready! This area of the city could be your playground for the whole day: renowned museums, exhibition halls and art spaces are everywhere to be found.
But what makes the MuseumsQuarter so particular is the beautiful merging of baroque buildings and contemporary architecture that form together an astonishing contrasting whole.
This impressive art space is home to a wide range of attractions that are all worth visiting. But if you've only got the energy for one, make it the Leopold, with the world's largest collection of Egon Schiele's work and its swish, glass-walled cafe.
And the best about the MuseumsQuarter is that, after a long day discovering all the cultural gems this place has to offer, you can chill and have a drink in one of the many outdoor restaurants and bars. During sunny days, head to the vast inner courtyard. People usually lounge there, while contemplating the beautiful surrounding cultural monuments.
Grab a flea market bargain at the Naschmarkt market!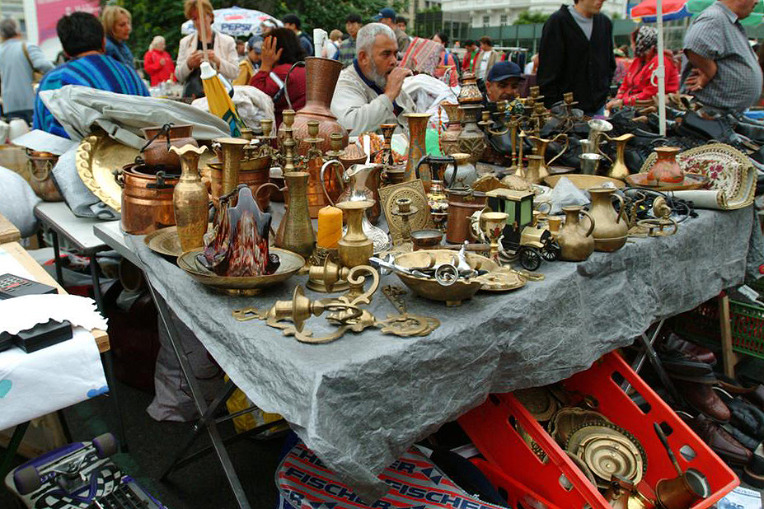 The Naschmarkt Market is the most famous of Viennese open-air markets. Located in the 6th Viennese district called Mariahilf, beside the Kettenbrückengasse U-Bahn station, the market is open from Monday until Saturday.
Walk around the stand and admire the stalls' diversity, from buckets of tulips over pickles, wines and plump, to purple-flushed figs and second-hand antiques. Stop for breakfast at one of the many restaurant and food stalls. There, all of your senses will be stimulated. The smells of the spices, fruits and vegetables will make you feel like being in a Moroccan souk.
On Saturday, it is worth waking up at 6 am to catch the best bargains of the flea market. Don´t be lazy! You will be happy that you did it.
When leaving the market, look out for the lovely Otto Wagner Houses and their beautiful facades at nos.38 and 40 – the latter's tiles embossed with vines and flowers give the houses all their charm.
Head to the beach! (No kidding)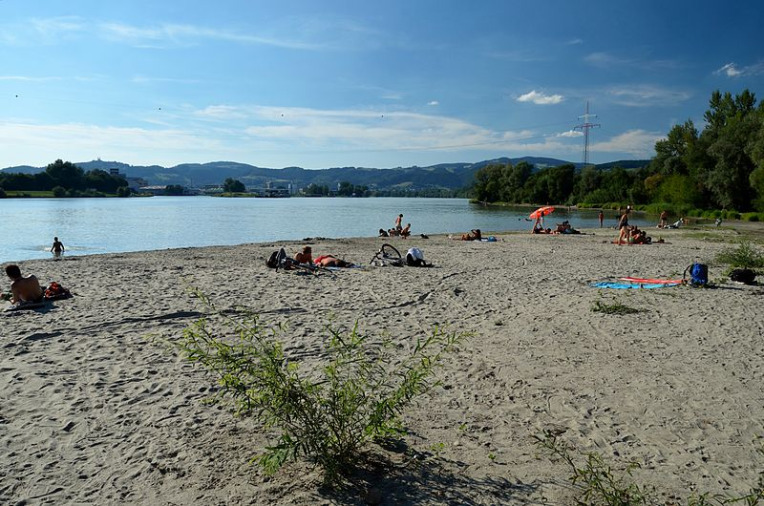 With their car-free quayside, bars, restaurants and artificial sandy beaches, the banks of the Danube are the nearest Vienna gets to a beach. There, you will easily find a cool spot to chill and take some sun while having a cool drink, chatting with some friends.
But here´s our personal tip: to get the most savage authentic stretch of the Danube, you should go where the cruise ships can't!
In summer, you can take the small National Park boat from the city to the Danube National Park of Lobau. The day tour usually starts at 9 am and finishes at 1.30 pm. It´s so close to Vienna, and yet, you will feel as if you were lost in a wild jungle.
From the National Park Centre, you can also take short and long hiking and biking tours, or, for the real adventurers, go deeper into the Danube's side arms by canoe.
Swing it up at one of Europe´s best Jazz club!
Porgy & Bess is one of the top ten jazz clubs in Europe. Its varied program includes musicians, country and city portraits, sessions and workshops as well as special events such as "Jazz for Kids". Well, you got it… Porgy & Bess is far the best place to hear modern jazz, blues and world music in Vienna. The intimate and comfortable atmosphere of the place makes it even more exceptional.
If you´re looking for something different to do on a night, we highly recommend you to stop by Porgy & Bess and enjoy the beautiful mix of modern and old tunes.
Entry tickets: from 8 to 35euros.
Read more about it on: www.porgy.at
Taste some Viennese wine!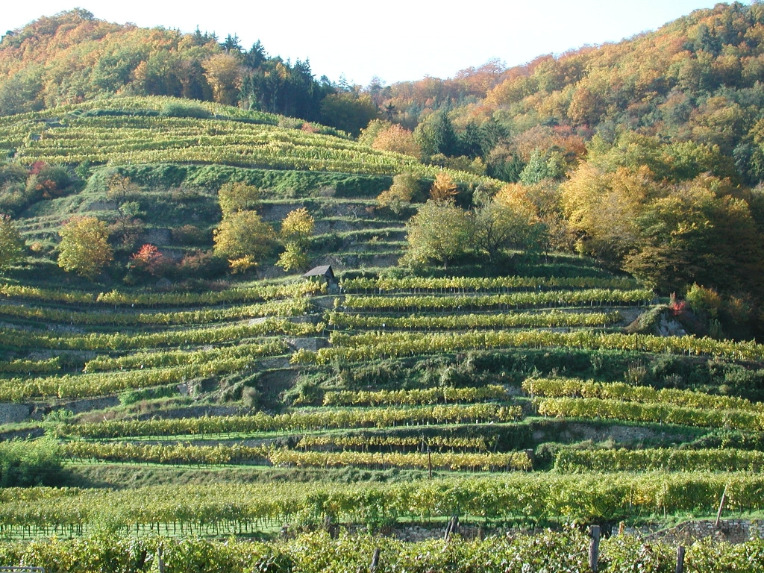 With its seven square kilometres surrounding vineyards, Vienna is the world's largest wine-growing capital city. If you want to try some Viennese wines when visiting the capital, you should make a day trip to the city of Dürnstein. Take part in one of the organised wine tasting bike tour! No worries… You don´t need to be a great athlete to do so, it is really easy going! You will cycle along the beautiful Danube bike path and will even have the chance to enjoy some nice views on the UNESCO World Heritage Site Wachau Valley. During the tour, you will make some regular stops at small wineries in order to taste wine, apricot liqueur, jam and other delicious local products.
So, let's get this straight: nice landscapes, a (gentle) physical and healthy activity and some good wines awaiting you at the key… Don´t think twice!
Be amazed by the unknown, yet omnipresent street art masterpieces of the city



Walking through Vienna is walking through history. It's at every corner, in every park, in every building. But while you enjoy the beauty of these cultural monuments, just open your eyes a bit more and look around! You will be surprised by the many pieces of street art that are hidden in Vienna´s streets. The city is home to more modern and underground art forms than you would have ever thought! The only problem? Knowing where to find them.
Here are some of our tips for places where you should start looking: the Donaukanal, the Spittelau subway station, the Street Art Passage, a bridge that leads from the Museumsquartier to Spittelberg, the Brunnenmarkt, the Mariahilf neighborhood and the Naschmarkt…
Don´t hesitate to share your discoveries with us!
You got it… Vienna has so much more to offer than its wonderful historical heritage. Don´t wait any longer to discover this surprising city. Its many contrasts will, without any doubt, seduce you.
If you need a place to stay in the beautiful Austrian capital look here for our best accommodations in Vienna.