Casa da Gente
Gonçalves Fontes, 33
20241-100 Rio de Janeiro
Brazil
Number of Rooms: 9
Style: Unpretentious
Hotel Type: Bed & Breakfast
Environment: City
Prices: from 140.00 BRL to 220.00 BRL

Rio de Janeiro is getting more Parisian with each passing day. By that we don't mean it is losing its unique "carioca" vibe to be replaced by an "ooh la la!" feel. It's the other way round actually, as more French people embrace Rio, its easy going way of life, and make it their home and base.

Take Pauline Grosso, for example. A native of Brittany, France, she fell in love at first sight with the Santa Teresa quarter of Rio, the city's most bohemian and cosmopolitan quarter, and decided to make it her home.

She opened a cultural centre that now also doubles as a special place to stay with 9 rooms. Welcome to the Casa da Gente – the peoples home.

The idea behind it is great. It is for the traveller that seeks "not to be a simple tourist". It is a place where guests can merge into the landscape, know the city from the inside and experience an affectionate welcome. Unusual for its location, the Casa da Gente enjoys at the same time, the tranquility of Santa Teresa, the Bohemia of Lapa and the energy of downtown Rio.

The house is bright, decorated with unique vintage furniture and creative works from neighborhood artists. Its hanging garden overlaps the roofs and streets of the city center and has a breathtaking view.

Breakfast is balanced and natural, served with whole wheat bread, homemade yogurt, fresh juices and some other regional delis. Indeed, the Casa da Gente is seriously into ecological solutions, from the capture of rain water, to the composting of organic waste and showers heated by solar panels.

One of the great things about Pauline Grosso and the Casa da Gente is that her love for Rio is infectious. She provides the best tips with you so that you can discover the city in a practical, safe and easy way.

So, enjoy Rio de Janeiro, enjoy the company of the people of this special house! As the Casa da Gente itself states what you get is "An alternative and innovative space where culture, economic solidarity and ecology come together".
Casa da Gente Reviews
Great place, highly recommended
Me and my husband stayed at Casa de Gente for our honeymoon and we could not have been happier with our choice. It was our first time in Rio, in Brazil and out of Europe. We found Casa de Gente offers more than accommodation (which is confortable, very well located, close to everything and yet intimate), as the suport, advice and recommendations given by the hosts actually made our stay worth while. We were thus able to see not only the touristic landmarks, but also the local, specific attractions, such as a spontaneous concert in a small garden, breathtaking views and contrasts in a favella or the local market, full of life and colour. Rio, so gorgeous, bursting of life and full of contrasts, has stuck to our hearts forever and we owe much of this to Casa de Gente. We heartly recommend it!
by

Silvia


Date of stay at the Casa da Gente 20-11-2012
Hotel Rooms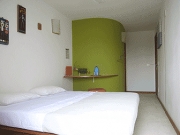 Ceu
0 m2
Room with private bathroom (hydromassage bath-tub). Balcony with a pretty sight on the Center of Rio and Bay of Guanabara. Ceiling Ventilator. Extra broad double bed and an individual bed or three individual beds. Possibility of adding a cot for a child.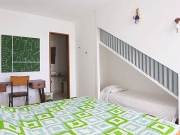 Terra
0 m2
Room with private bathroom (hydromassage bath-tub)
Access by the living room with sight on the garden and the center of Rio. Ceiling ventilator. Extra broad double bed and an individual bed or three individual beds. Possibility of adding a cot for a child
Amenities
Credit cards NOT accepted
Garden
Internet WiFi
Library
Lounge
Terrace
Hotel Room Amenities
Internet WiFi
Non smoking rooms
Sports & Activities
Coming soon with interesting information
Hotel Board
This information was posted by Casa da Gente
Solidarity Tourism and Community
The Casa da Gente strongly believes that tourism can be a force for positive change and social inclusion. It can arrange custom tours for individuals and small groups with a focus on tourism and community solidarity.

The idea behind this is to use tourism as a way of recognizing and learning from the differences in regions and ethnicities.
Traveller Tips
Restaurants
Sorry, no tips available yet
Activities
Sorry, no tips available yet
Culture
Sorry, no tips available yet