AMALFI COAST GUIDE - Positano, Amalfi, Ravello & Capri
The stunning Amalfi Coast is on most travellers' bucket list for a reason. The views over the small Italian villages built into the cliffs with the crystal clear turquoise sea rolling onto the beaches or crashing onto the coast are like no other.
We have explored this part of Italy for 10 days and will share our itinerary and all the tips we have collected along the way with you in this Amalfi Coast Travel & Hotel Guide for Positano, Amalfi, Ravello, and Capri.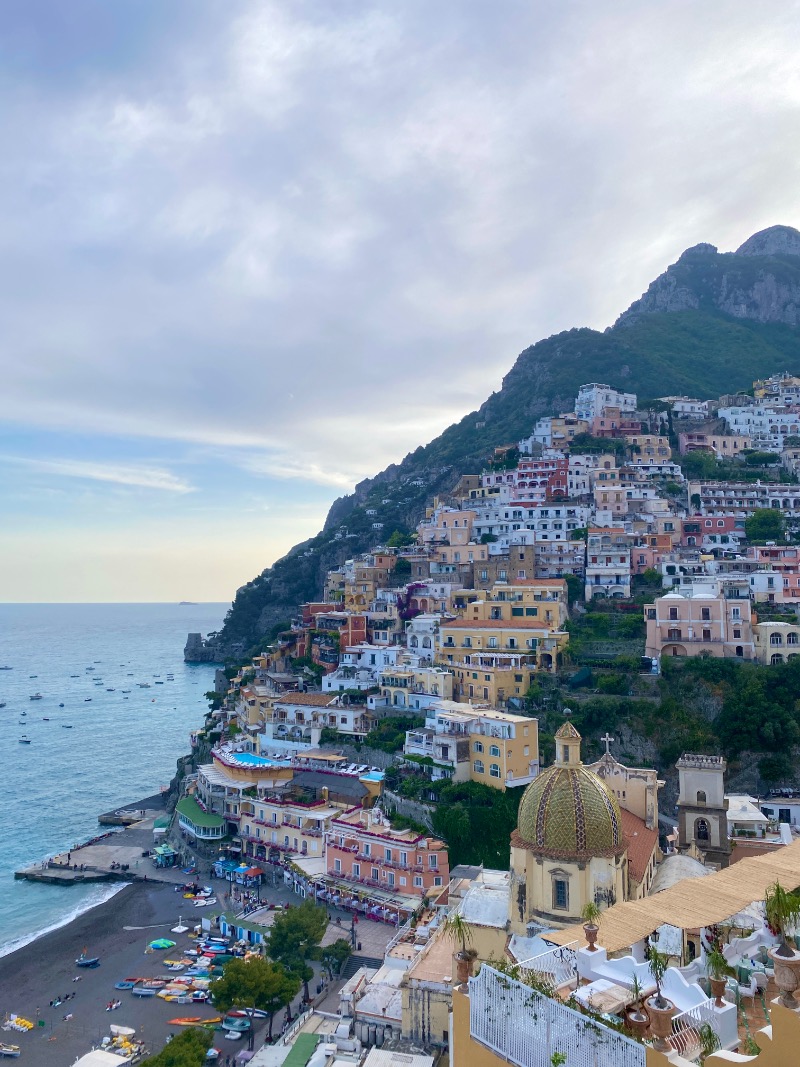 POSITANO
Our first stop was Positano & the town we were most looking forward to see & it really is gorgeous! We had to stop and sigh at every corner because we were so enthralled by its charm. Even though some parts of the city are very touristy and "prettified", a lot of it is still quite typically Italian and the views over the coast and the mountains are simply a dream!
We had three nights here and that was more than enough to explore the town in two days. You can see everything (the town is not super big and there is not really "sightseeing" except for the beautiful views & a few small alleys with cute shops).
THE REALITY
Nevertheless, we want to say that the city is very crowded in some parts (and we were there in May and not in the high season), almost mainly designed for tourists and not very original and the beaches are packed (free) or very expensive (and then still crowded). Many parts of the beach are closed off and you have to pay entrance fees and sunbeds/umbrellas. So we would never recommend doing a pure bathing holiday here! In the end, we only went to the beach once for 1-2 hours because it's really not comfortable there. But the water is still SO clear and refreshing and fantastically turquoise!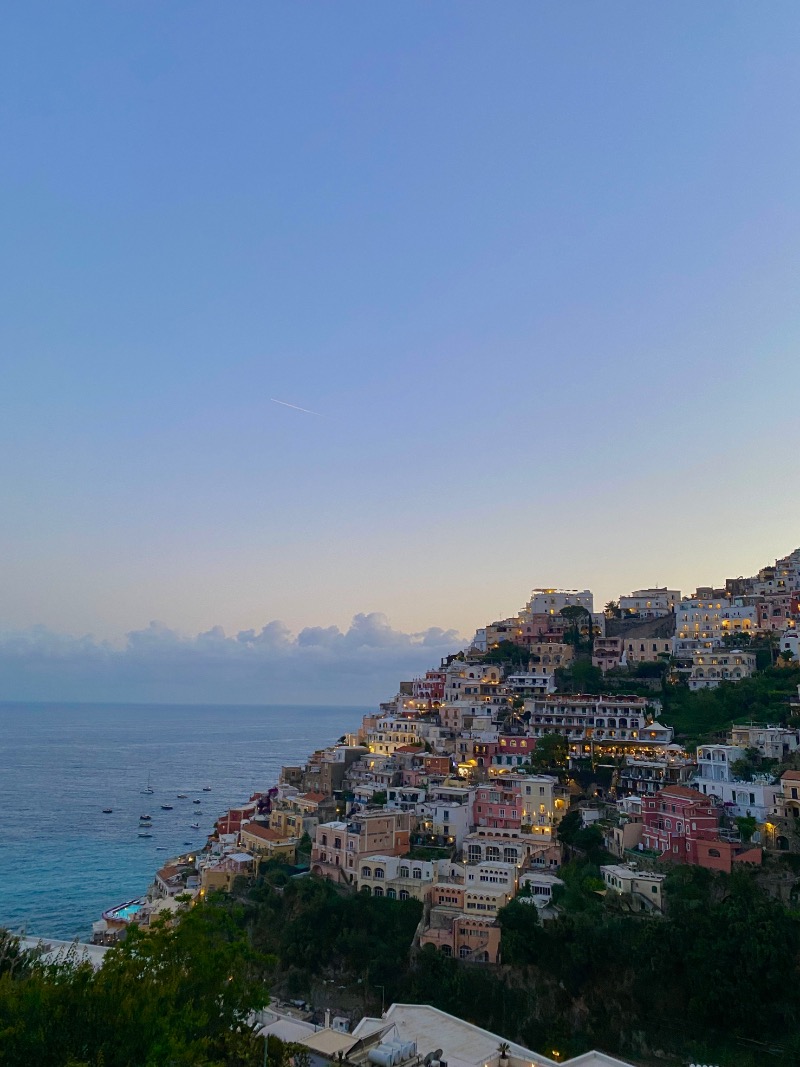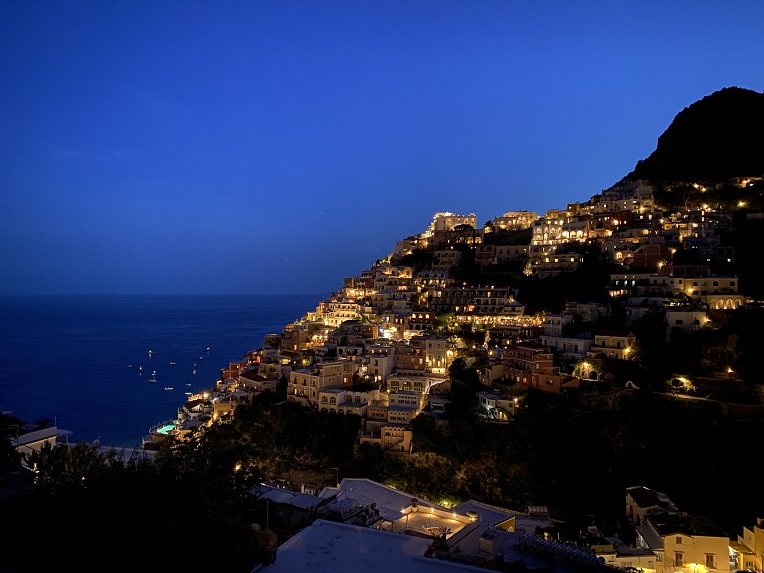 ACCOMMODATION
Finding good accommodation in Positano is easy... if you have a big budget. There is so many luxurious hotels with spectacular views and beautiful rooms. Finding affordable ones, that are still of high quality and in a close location though, is hard. So we are here to help you with that: find accommodation for every price range in this guide!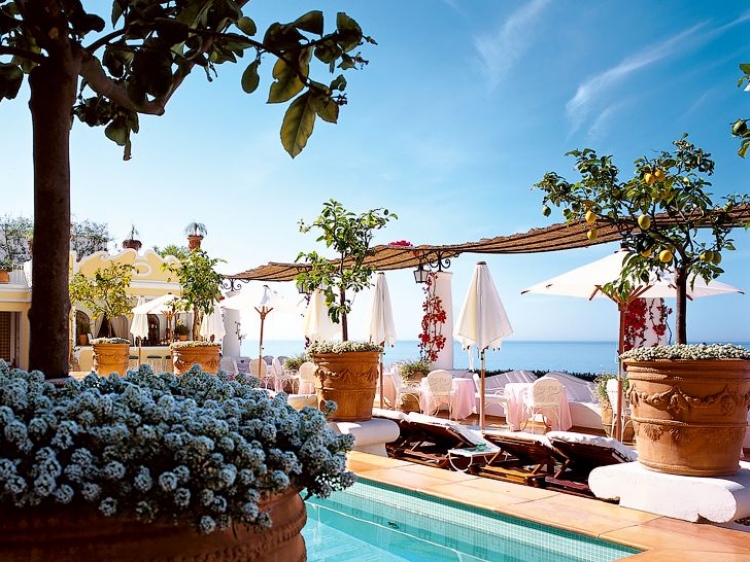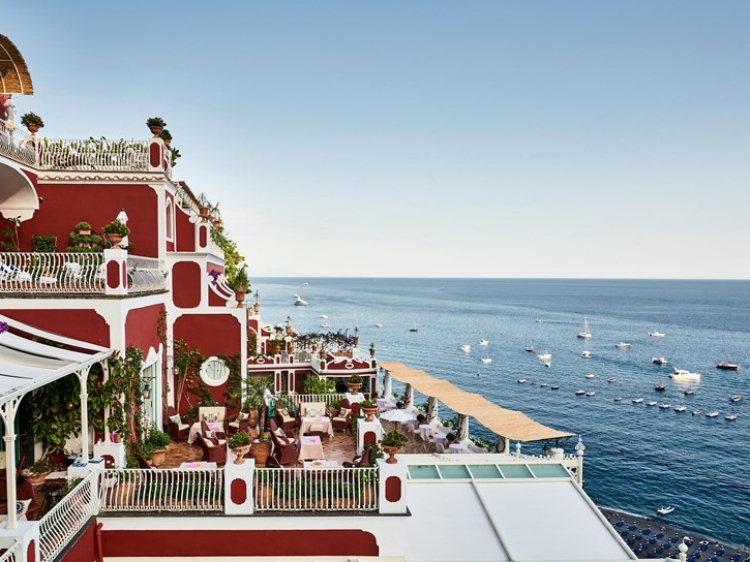 One of the most luxurious Positano hotels with fabulous views over the bay. Le Sirenuse can lay claim to being one of the finest hotels in the region and won numerous awards - Best World Hotel (Condé Nast); Best Italian Hotel, Best Europe Hotel (Travel and Leisure) and more. Valuable antiques and local works of art, collected over the years by the veritable Sersale family, plants and bougainvillea sprinkled liberally throughout, bedrooms decorated in a classical Italian style all add up to a pretty impressive stay. Naughty little pleasures include a Jacuzzi in each bedroom and (in most cases) balconies from which to enjoy the wonderful views.
Price from 550€ per night (in high season from 1,300€)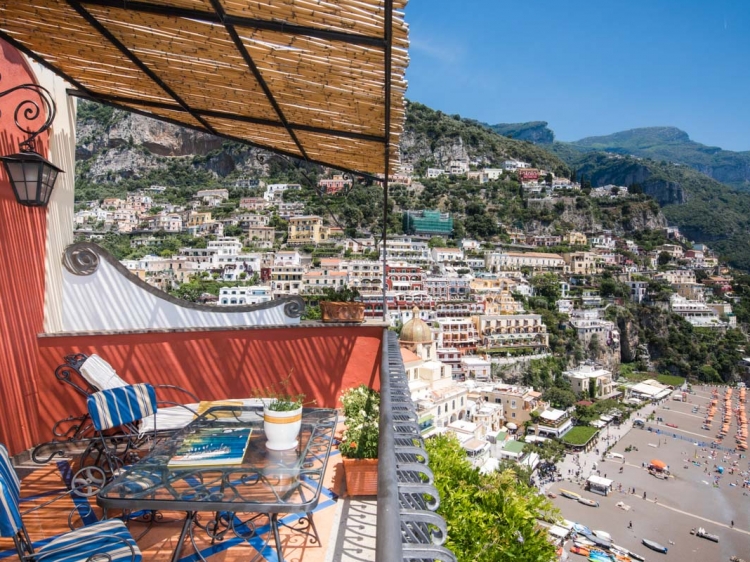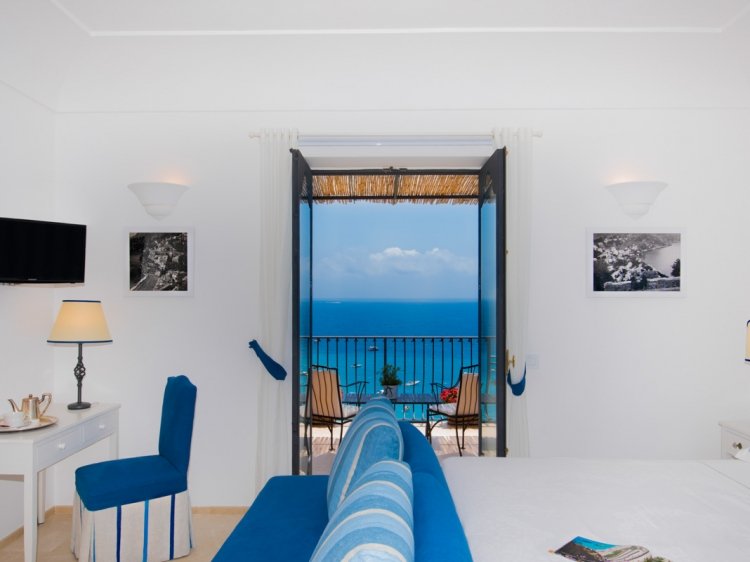 Simpler in decoration than some other more luxurious hotels in town, Albergo Miramare can still compete with them in regards to the spectacular views - while only paying a fraction of the price.
Price from 250€ per night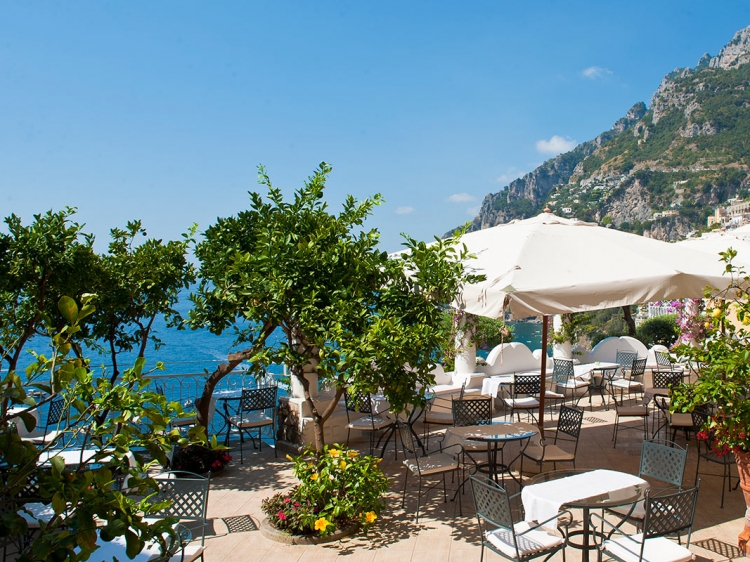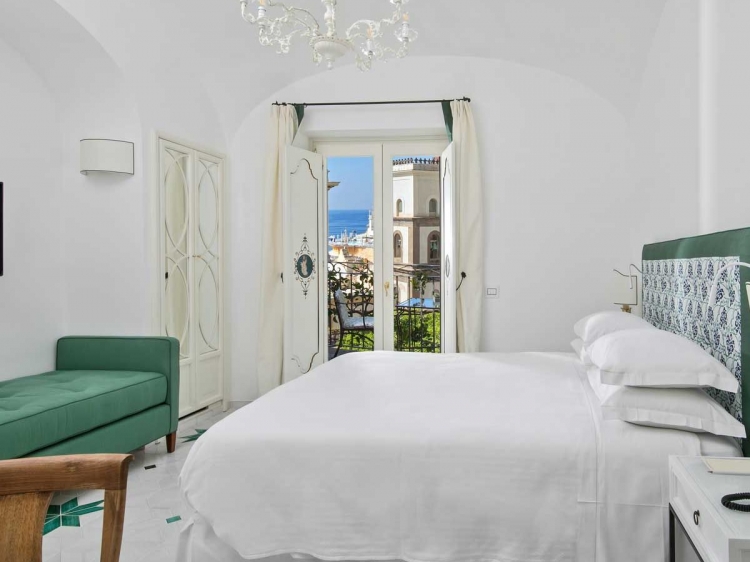 Palazzo Murat is situated in the pedestrian area in the heart of the town, near the "Piazzetta dei Mulini" the sea and the beach " Spiaggia Grande", reachable in few minutes through a small streat with picturesque boutiques and shops in one of the most suggestive corner of Positano. Palazzo Murat is an elegant hotel made from the restoration of an old palace of the seventeenth century in the style of the Neapolitan baroque school of Vanvitelli who has heighten the old structures and the period objects that enrich the furniture.
Price from 520€ per night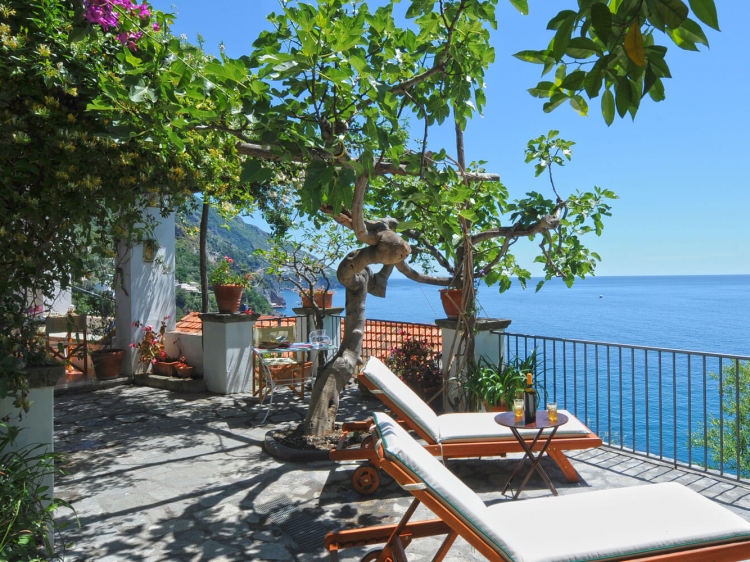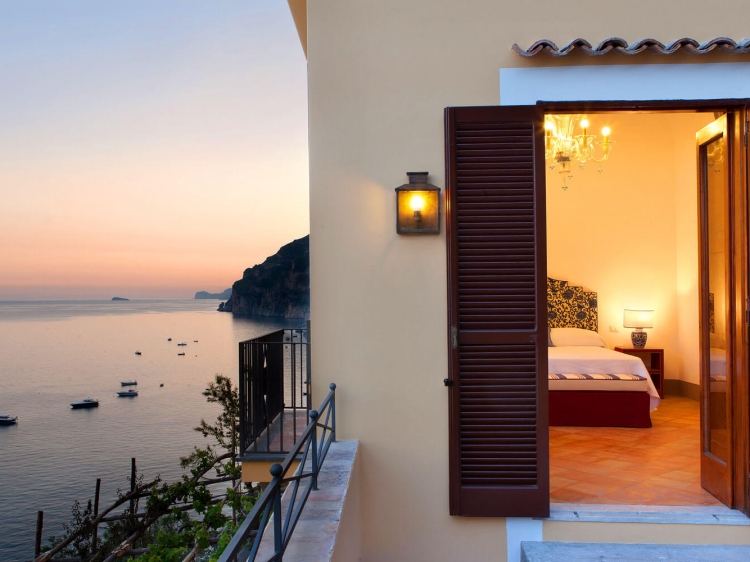 Five exclusive apartments of different sizes located in the beautiful village Positano on the Amalfi Coast. They all share a big pool, as well as private access to a small, secluded beach called "Il Bacino". From the apartments, you will be spoiled by an impressive view over the bay boasting clear blue waters and Positano, which is clung to the mountains. The Place Positano is an oasis of peace and tranquility, without missing any amenity of the vibrant village.
Price from 290€ per night
---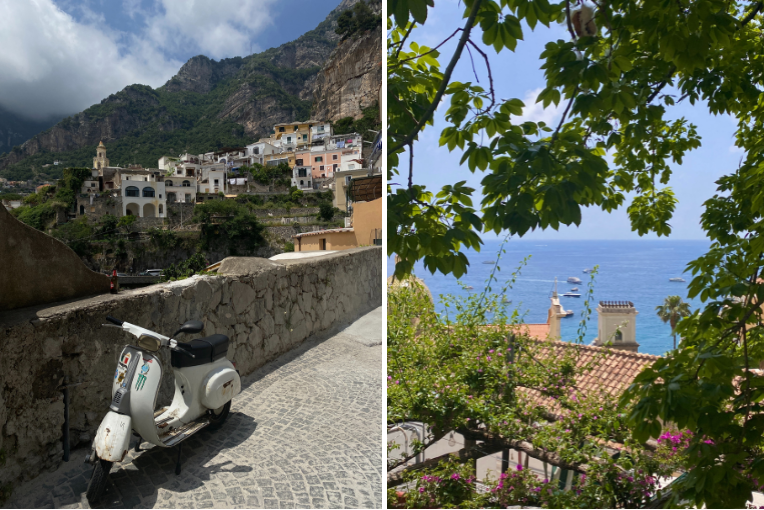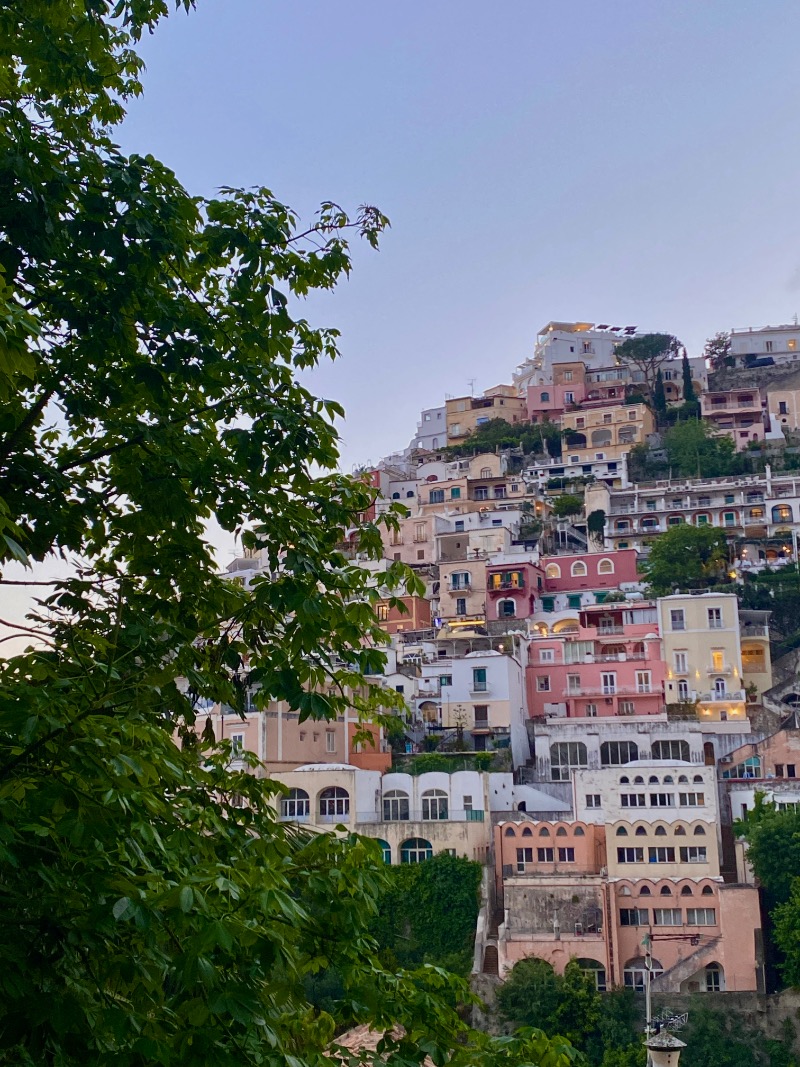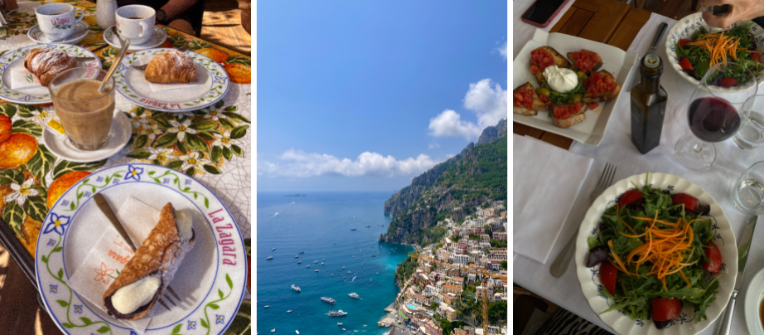 TIPS FOR POSITANO
From Via Cristoforno Colombo you have the most beautiful view over Positano and there are also some great restaurants with the best view. In addition, the street itself is worth a look, along the street are also all the expensive hotels where many influencers live and have the same view from there.

Buca di Bacco - very, very tasty gelato.
La Zagara - restaurant & café with a beautiful view & terrace, although not overlooking the water, but overlooking the hillsides and houses and surrounded by orange trees. They serve delicious pastries and cappuchino freddo with soy milk, and the food in the evening was also delicious (mega good pizza!) and not as fancy (and expensive) as many other places.
L'Ancora - directly at the Hotel L'Ancora (on the left, when you are standing in front of it) there is a great restaurant on a terrace with a great view! Unfortunately, I didn't write down the name and it's not even marked on Maps yet because it's apparently so new.
Another nice view is when you stand on the street in front of B&B Casa Wanda.
Lo Guarracino - good food with a view.
---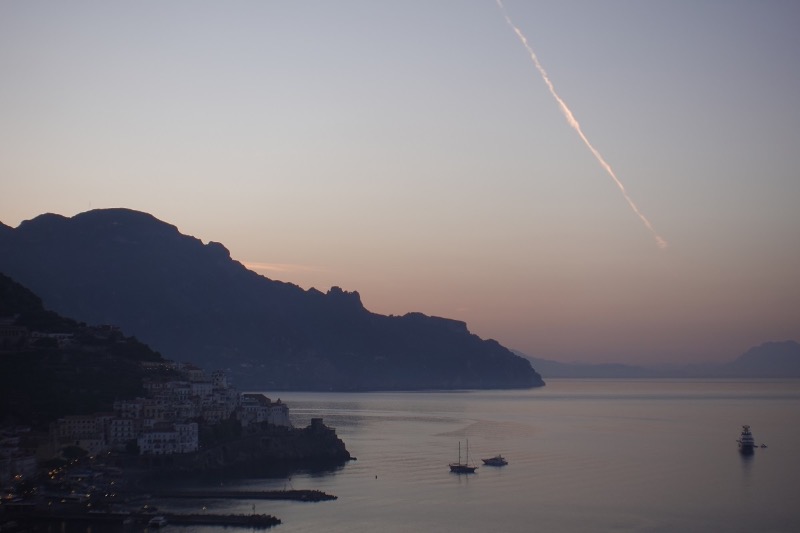 AMALFI
After Positano, we took a taxi to the neighbouring town of Amalfi - about an hour's drive away. The town is super nice, a little less "Positano-like" but more typically Italian. We really liked it there, especially because we discovered a small, somewhat quieter beach and you can easily make an excursion to Ravello from here, more about that in a moment. We had another three nights here and could have stayed a fourth one just to squeeze in one more beach day (but we did "use" one day to make a daytrip to Ravello, if you choose to stay overnight in Ravello, two days in Amalfi is enough).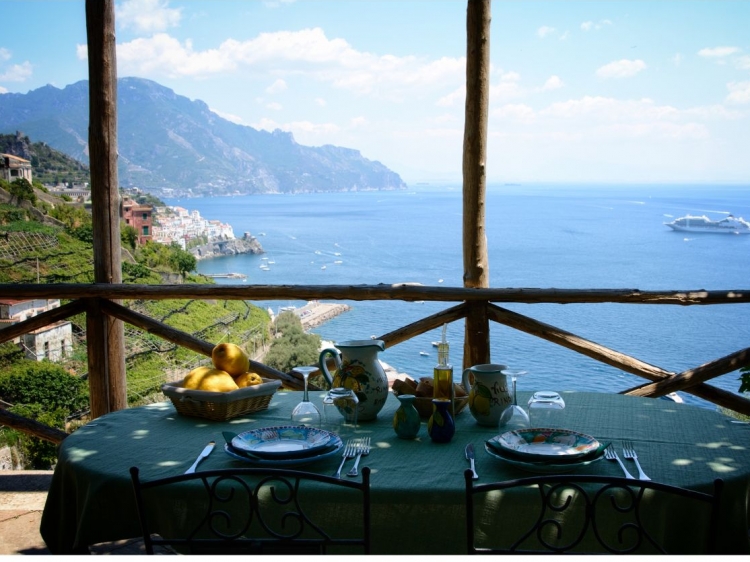 ACCOMMODATION IN AMALFI
The Villa Rina may not be the most luxurious place to stay in Amalfi but for a pretty good rate you get all the trappings of comfort and character of a 14th century villa. Plus it has a few things that money just can't buy, an absolutely delightful host in Rina who is not just one of the most hospitable owners we know but also an excellent cook to boot. Breakfast is great and other meals can be made on request using usually only the freshest ingredients. We also love the fact that it is a haven of peace and privacy bounded, as it is, by citrus groves and far from the noise of the traffic.
Prices from 120€ per night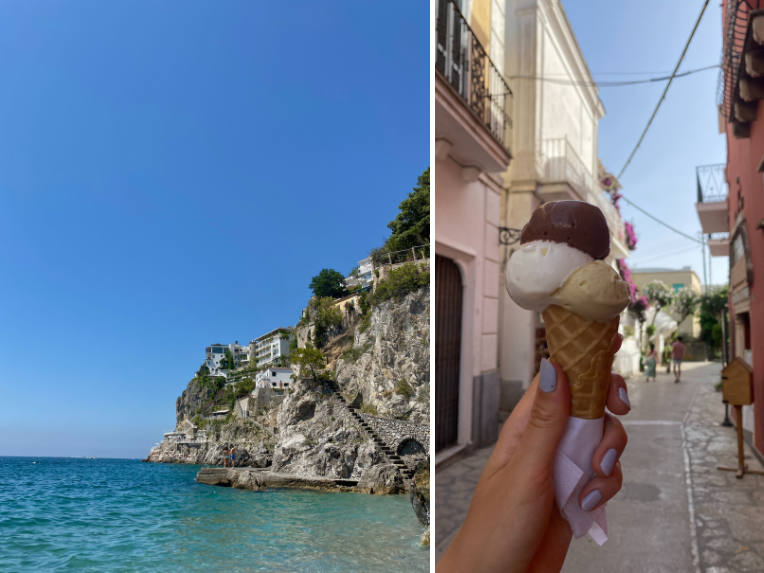 BEACH
Of course, there is again an expensive "resort" pay beach right in the city centre and a horrible mini small free beach right at the harbour. However, we discovered another quieter section a bit on the outskirts, where you don't have to rent sunbeds (but you can) and then only pay €5 entry per person (otherwise €25 upwards). We thought that was fair, considering that you have decent toilets and a shower. It's also not as crowded. The beach is called Lido delle Sirene and we really enjoyed our beach days here - especially cause you have a breathtaking view when you swim out and look over the cliffs and the city.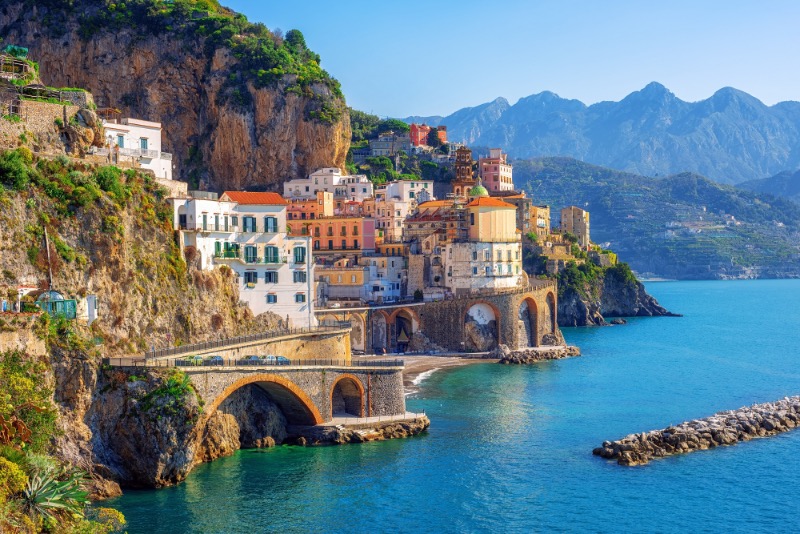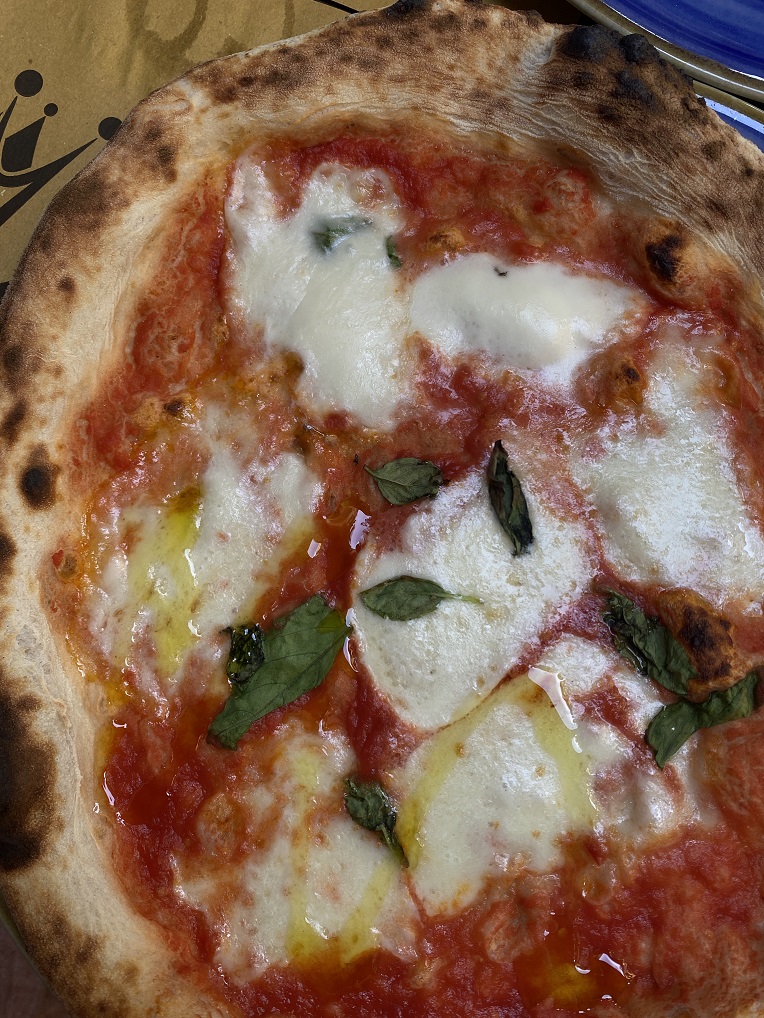 RECOMMENDATIONS FOR AMALFI
take a beach day and swim a bit out on the water and soak up the houses, mountains and the whole scenery from there.

stroll through the streets of the town centre and look at the Duomo, eat an ice cream in between. We had lots of delicious ice cream in Amalfi - you can find it on every corner. So I can't recommend any particular one, we tried so many different ones that looked good.

La Taverna del Duca - a great restaurant at the end of the main street. You sit nicely and the food was super great (homemade pasta with red and yellow tomato sauce & the tiramisu were great) and the staff super nice!

Cioccolato Andrea Pansa - not so typically Italian but have great coffee with soy milk (Cappuchino Freddo) and delicious super creamy ice cream, they specialise mainly in chocolate & have chocolates too.

make a trip to Ravello - with the bus from Amalfi you are there in 25 minutes (if the bus is on time & you fit in)

Cantina del Nostrom Zaccaria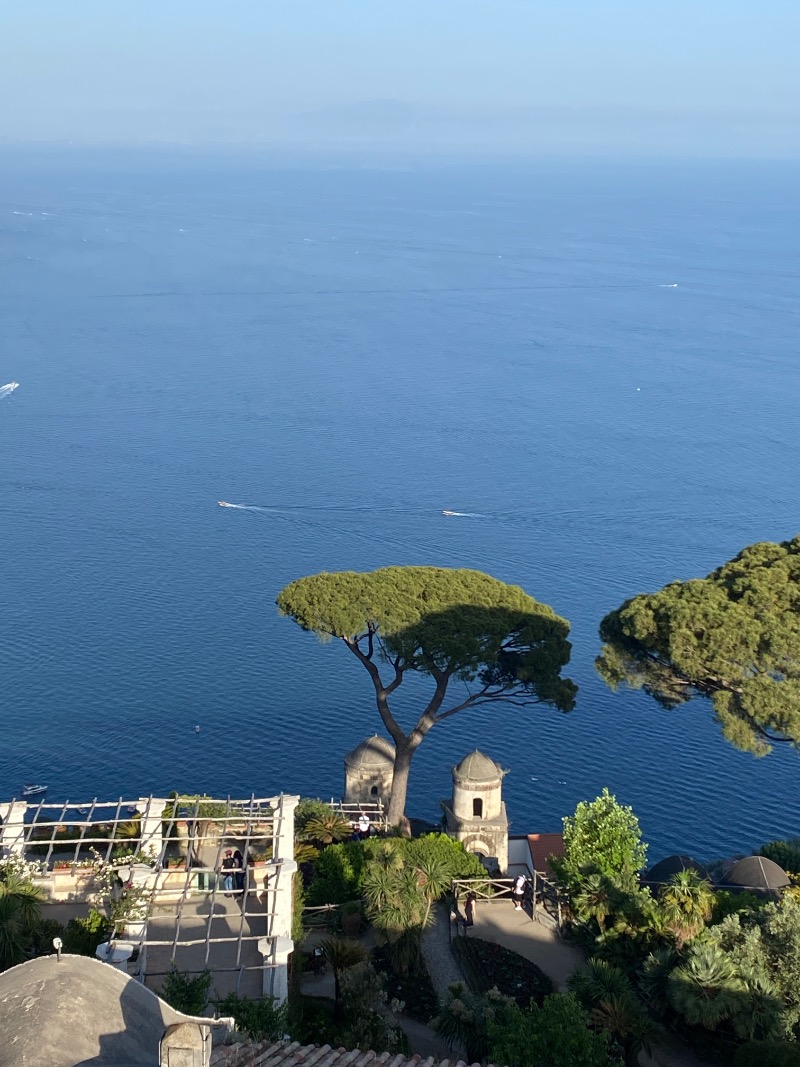 RAVELLO
A picturesque village on the Amalfi Coast, but not directly on the sea but in the mountains. There are beautiful views over the slopes and the sea and there are many beautiful gardens and old villas. Really worth a day trip (or half-day trip). We went to see Villa Rufolo (7€ entrance fee) and the view is really beautiful!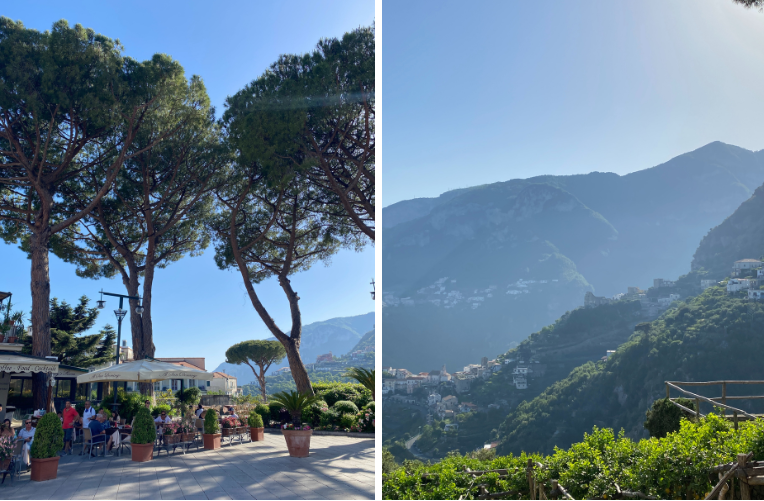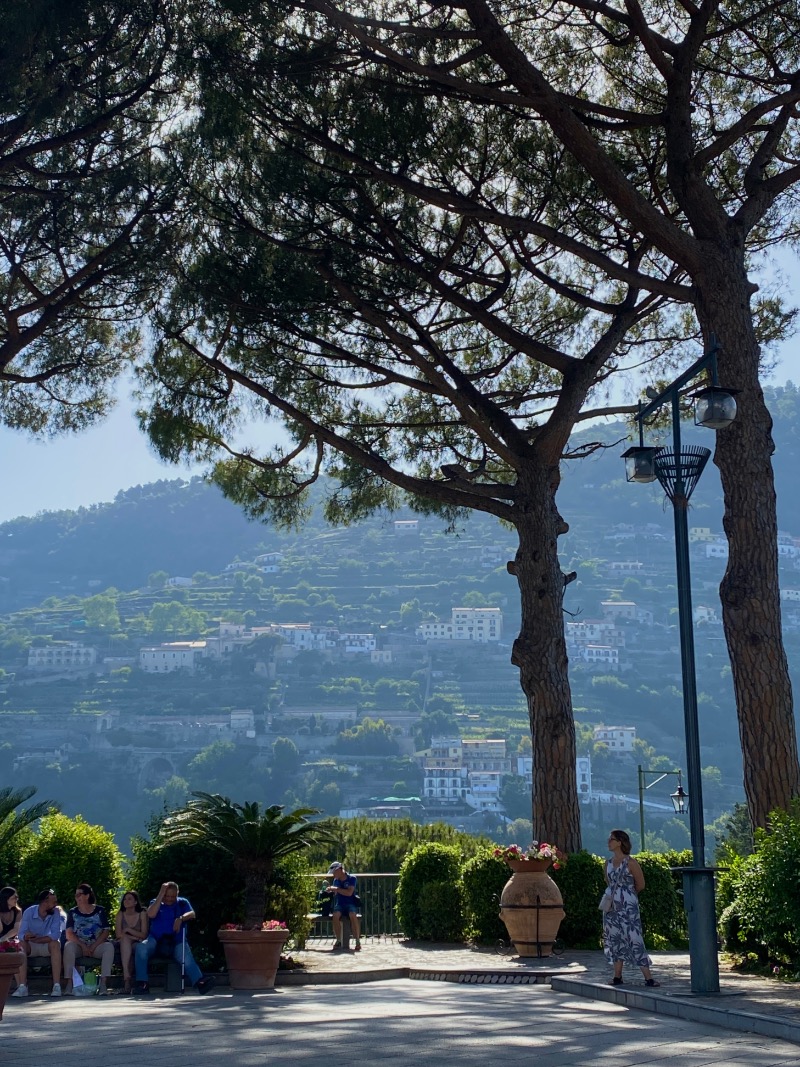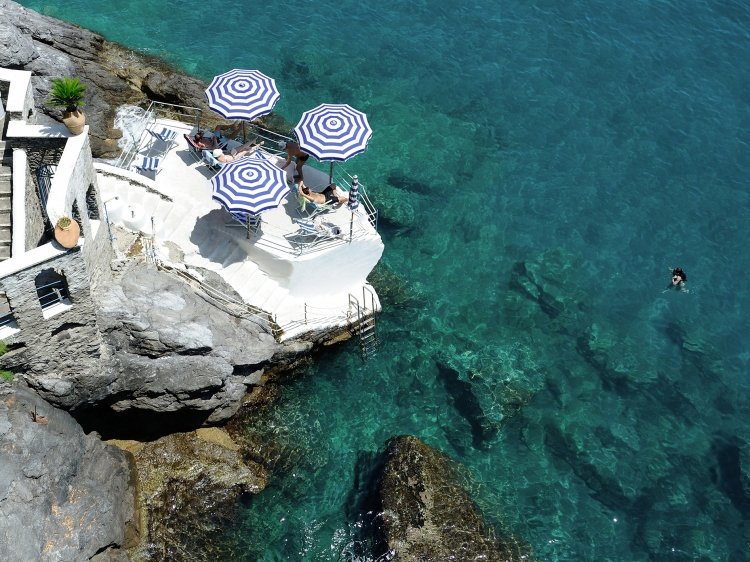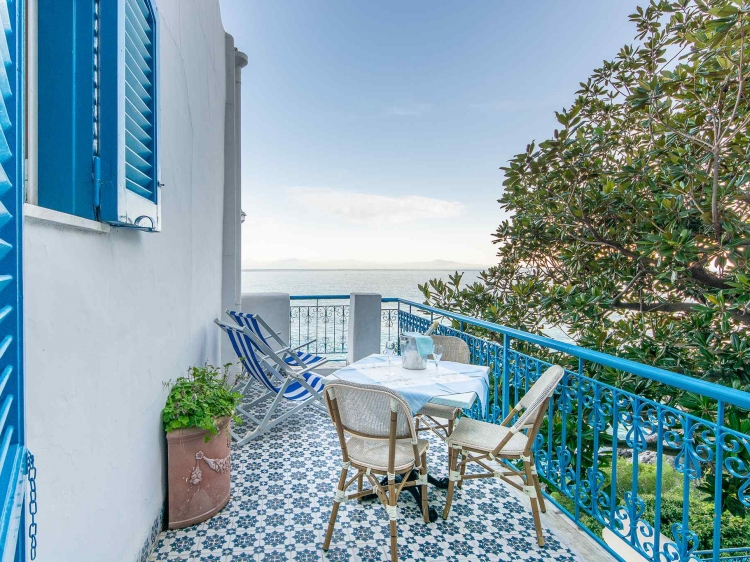 WHERE TO STAY IN RAVELLO
This beautiful hotel seems to be glued to the side of the mountain with views over the water from every angle. The rooms all face straight out to sea and all but one have balconies from where you can enjoy the seabreeze and listen to the waves crashing. Revello on the Amalfi Coast is an adorable Italian town in the mountains with the most stunning views and the world-known Positano and Amalfi are not far. If you ever not feel like exploring, the hotel's private path down to the sea to their bathing area invited to relax under the umbrellas and makes you appreciate to just simply exist.
---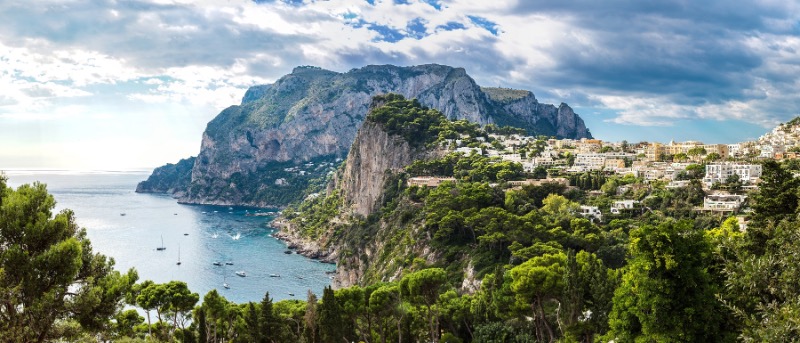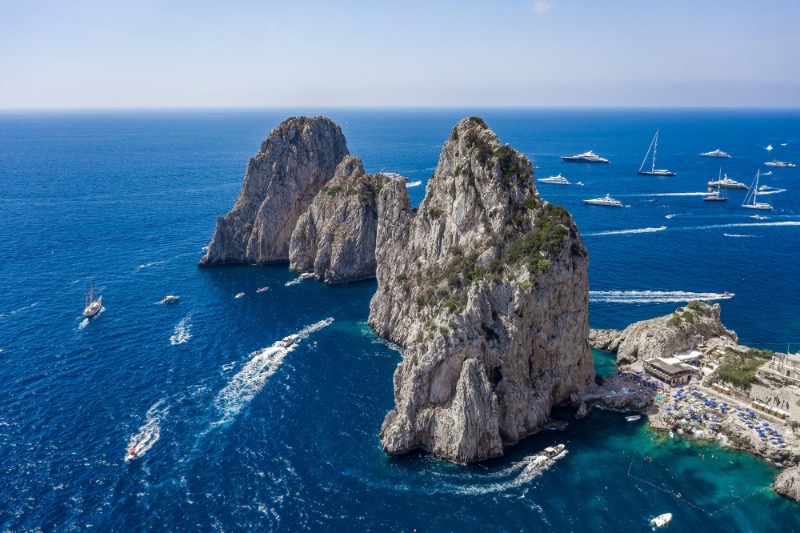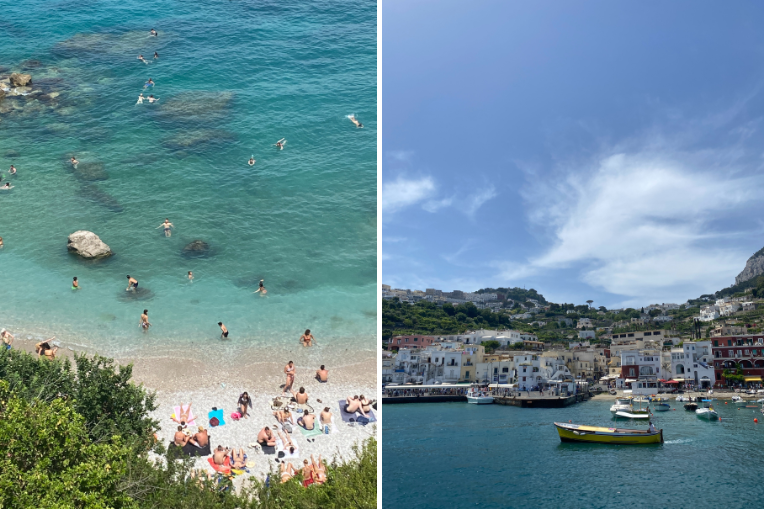 CAPRI
From Amalfi we took the ferry (Positano Jet) to Capri. Again, we had 3 nights there and therefore 2 full days, which was again quite enough. Of course, you could go on for days on the beach (at least I could!), but for a pure beach holiday the conditions are not ideal - but still sufficient! By the way, there are no cars on Carpi except taxis or vans or cars from accommodation, but no private ones, which is really nice.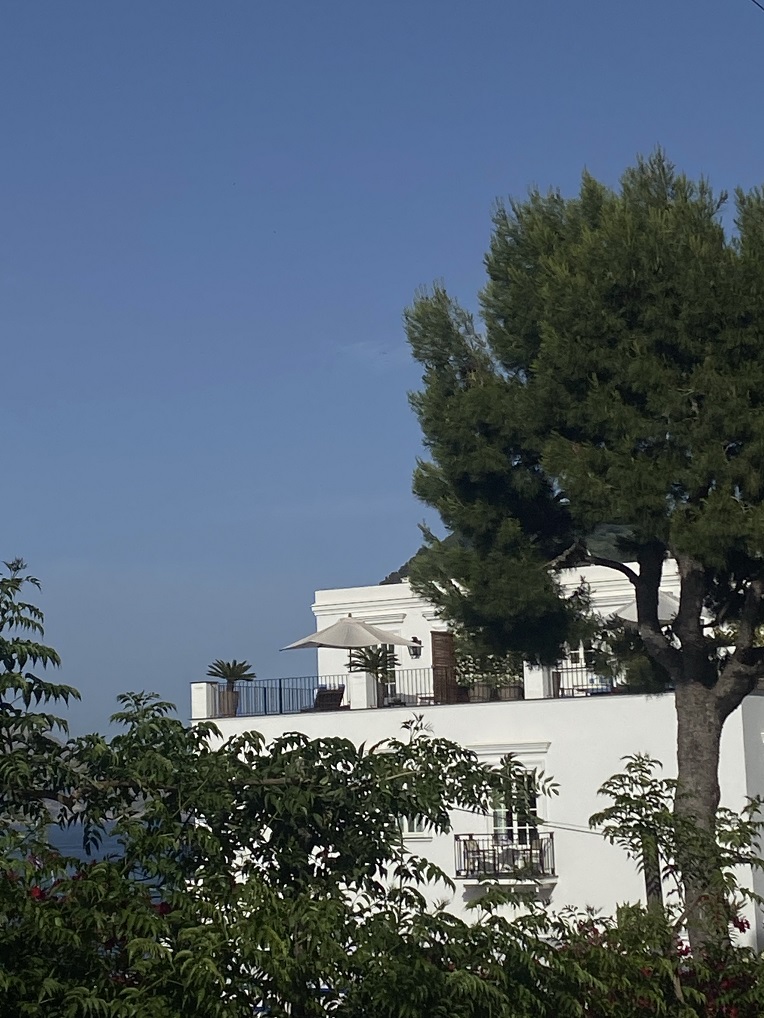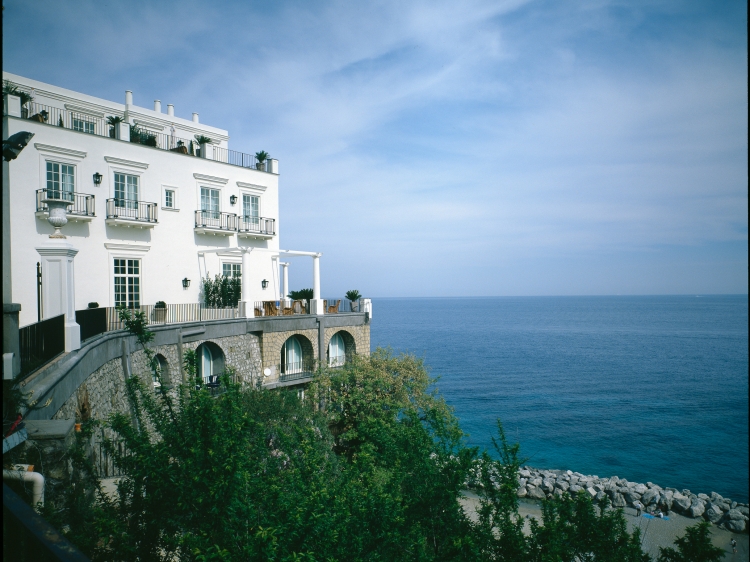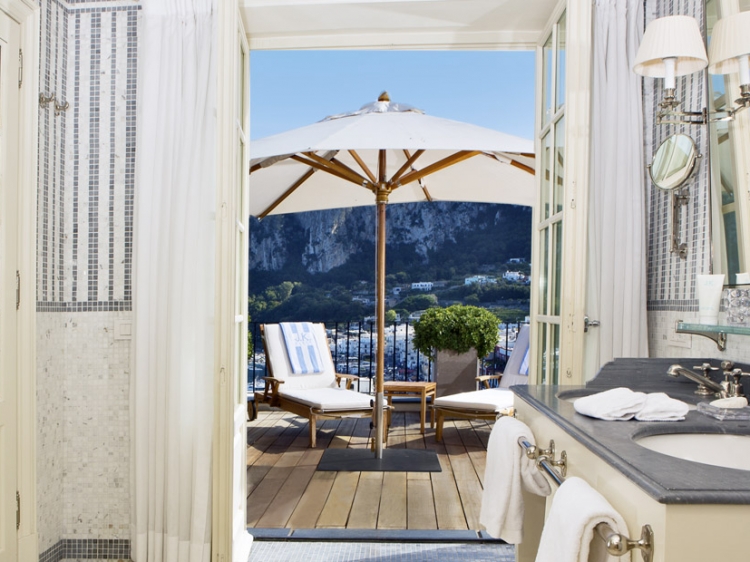 The J.K. Place Capri is something rather special indeed... sensual, refined style, oozing comfort and hovering just a few feet above the Mediterranean. Twenty two rooms hug the hill just above Capri's port, the only hotel on the island with direct access to the beach and those beautiful Mediterranean waters. The J.K. Place-feel combined with Capri's addictive, dreamlike environment mean that this is a combination made in heaven. Already a destination designed for relaxation, Capri's cliffs tower out of the transparent blue-green sea, bright white houses with their flattened domes hinting Moorish influences, deep blue skies, the vibrant colours of the ceramic tiles, scents of Mediterranean macchia; it is a magical island.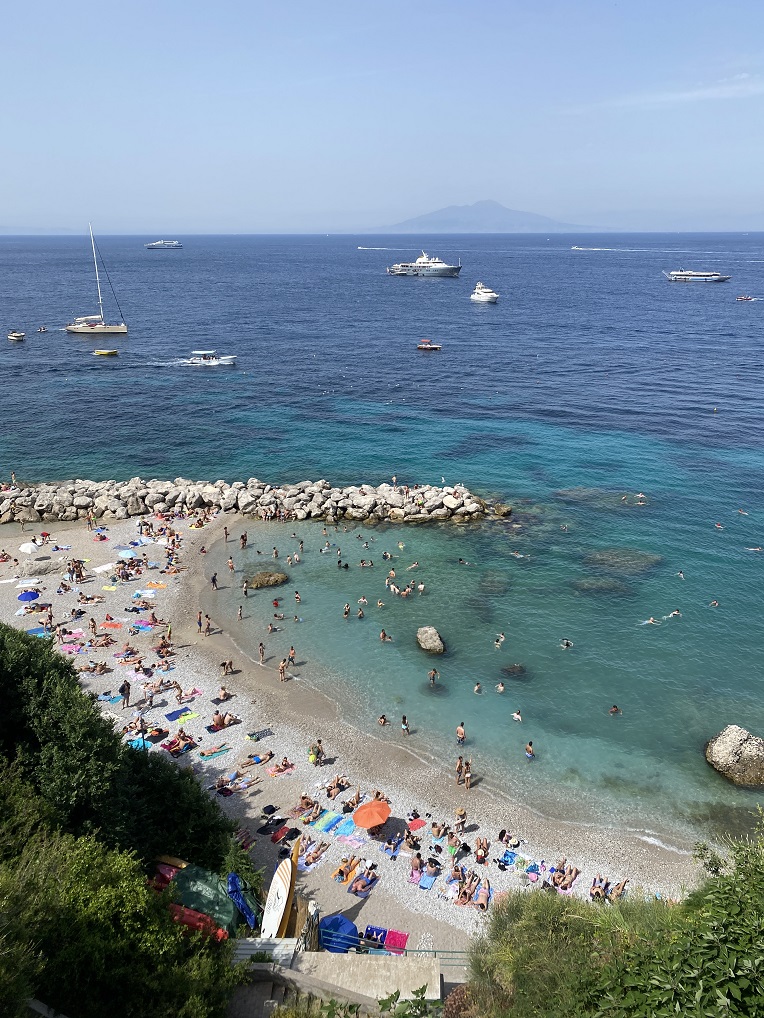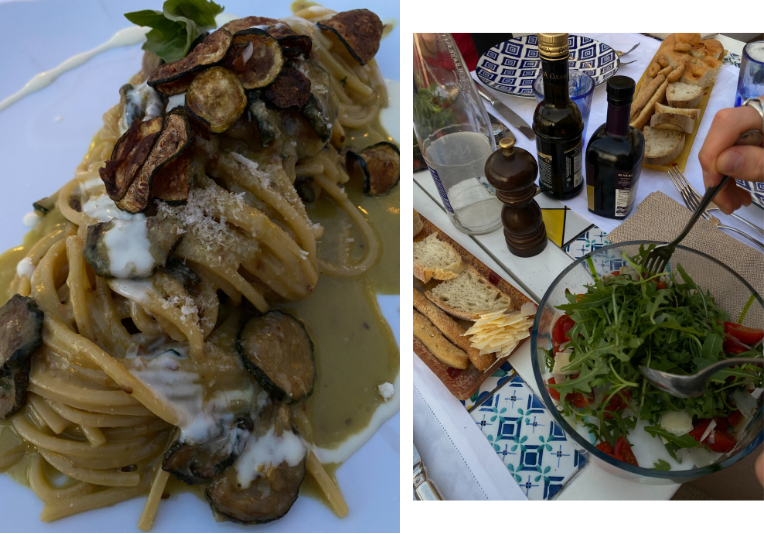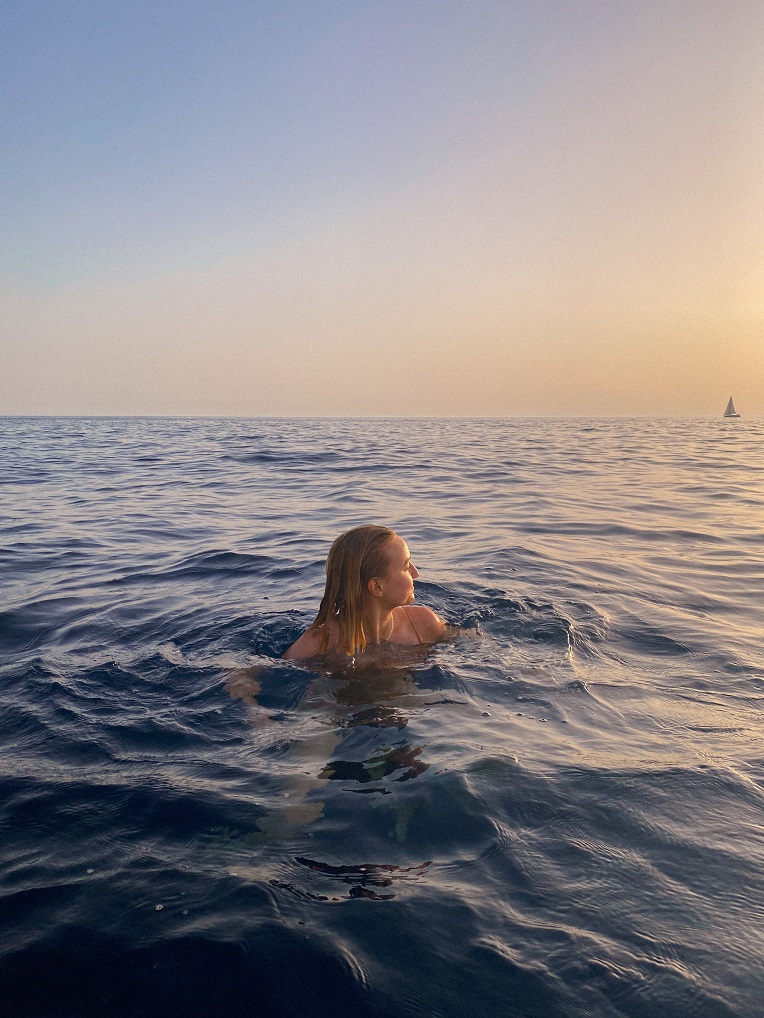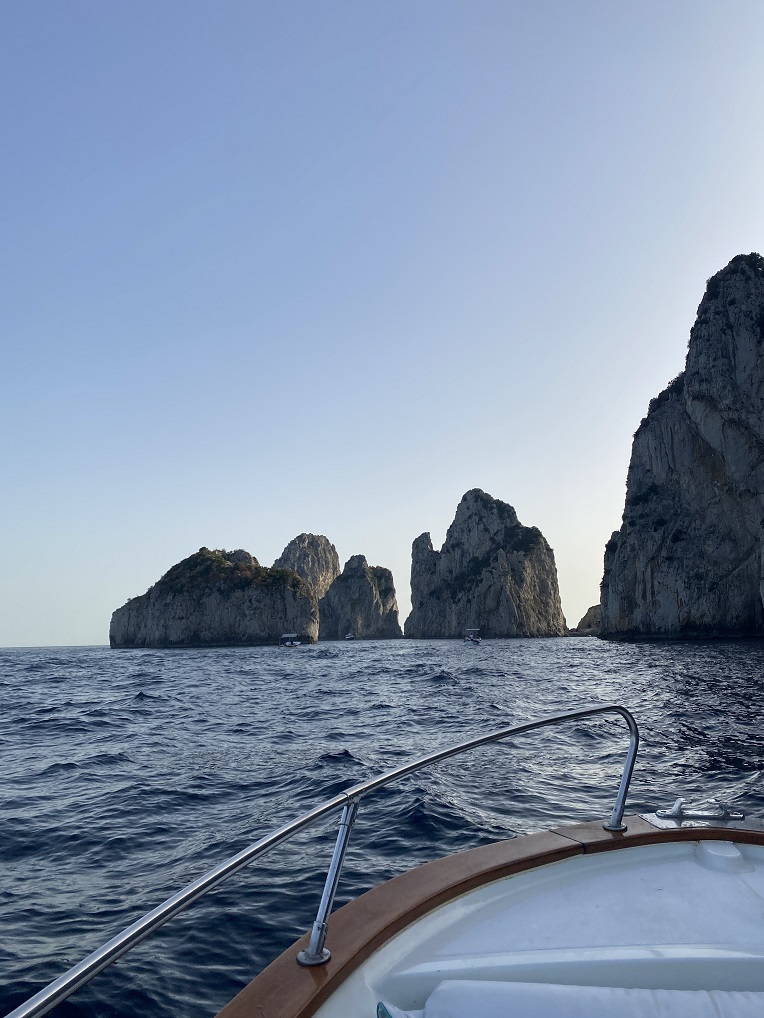 CAPRI RECOMMENDATIONS
We didn't do everything you can do on Capri because 1. it's incredibly expensive and 2. we also just wanted to chill on the beach. That's why I'm also including things that I had only researched, but which we didn't do.
Boat trip with Valeria from Bluesidecapri to the sunset. We went once around the entire island and it was beautiful!

In the evening to Capri town - from the top you have a beautiful view of the sunset and here you can stroll a bit through the streets (without buying anything haha). Here you can find all the big expensive fashion brands, although the island is so small, but here the rich people gather. Somehow I didn't find it so nice and cute and Italian, we were only there for a short time one evening.

Spiaggia Marina Grande - here we went to the beach twice. Really fantastic turquoise water! Marina Piccola is supposed to be even nicer on the other side of the island, but we didn't have any means of transport and didn't want to take a taxi to the beach.

Anacapri - we went there once by taxi, it was cute but not that great. But from here you can take a chairlift up to Monte Solaro. From the top you have a really great view - unfortunately we didn't make it.

Blue Grotto - we didn't visit it, but it's probably very beautiful and special, but it also involves an extremely long wait.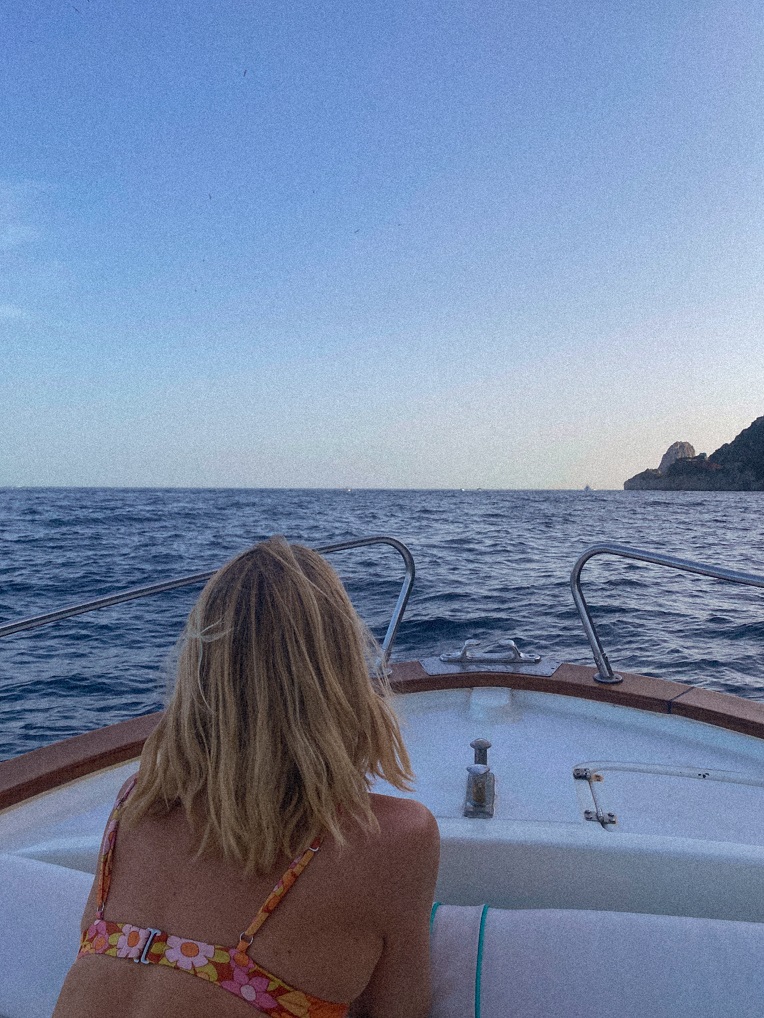 ---
MORE PLACES TO STAY ALONG THE MAGNIFICENT AMALFI COAST
Some simple facts about the Luxury Hotel Capo La Gala stand out above all others: The location (tucked underneath terraces of olives and lemons in its own little sheltered headland) and the views (some of the finest anywhere on the Sorrento or Amalfi coasts). This charming hotel does exclusive in a relaxed manner, settled into the fruit terraces where it was built in the 1950s creating a luxurious refuge that hugs the terrain and seems to be part of it. An organic architecture that means each room as well as the bar and restaurant benefit from those stunning views across the Bay of Naples, a horizon of azure waters with Capri, Ischia and Procida entering the scene. The atmosphere is calm and select; the little cape where the hotel is positioned hides the villages along the coast leaving this little corner of paradise just for you. A restoration in 2006 brought one of the best-known designers to add bold and modern features to the hotel whilst never detracting from the fact that the main players here are those stunning views backed up by the colours of the water, the olive trees, the lemons… The Luxury Design Hotel Capo La Gala is close to the towns of Sorrento (6 miles/9km) and Vico Equense (1 mile/2km) as well as Pompei (30 minutes by car or the local Circumvesuviana train) and Positano (45 minutes) so all of these places are easy to reach. The thing that we loved about the Capo La Gala, however, is its sense of exclusivity, that though close to culture and great little towns, its position on the olive terraces in the shelter of the little cape or headland from where it takes its name means that you really do feel as though you're miles and days away from the rest of civilization. All you need to care about is the peace and quiet and the fact that the gourmet restaurant "Maxi" is extremely well-known in the area for cooking excellent dishes of fresh, local seafood and typical Neopolitan pasta. An unusual and utterly charming little place.

The stunning Luxury Hotel Casa Angelina is a rare find on the Amalfi coast; a hotel that privileges design and blends it subtly with nature's own display by using vast windows that allow the wonderful views of sea, mountains and pure azure sky to pour in.The Casa Angelina is simply a little gem, a very special hideaway in a part of the world that already leaves you breathless for its beauty. One of the most luxurious of Amalfi coast hotels, it balances calm with a great location; on the edge of the village of Praiano, approximately 2.5 miles (4 km) from Amalfi itself, the hotel offers a roof terrace that opens to the sky providing an unbeatable location for an evening aperativo and a top class dinner.Italian newspapers have been raving about the quality of the cuisine here as well as praising the clean white lines of the interior decor. The hotel is surrounded by terraces of lemon trees as well as their own vegetable and fruit garden ensuring the freshest of ingredients for some wonderful Mediterranean cuisine. Many of the rooms have private terraces that look straight onto the sea in front and the isle of Capri across the gulf to the right.The bedrooms have all mod-cons as you would expect and a predominance of white to set off that wonderful blue of the sea. Murano glass from some of Italy's best young designers and fresh roses add a touch of class but the real beauty of these rooms is how much light they let in. You are suspended above the ocean and there's no better decoration than that.A choice of three swimming pools (one indoor and two on the terraces outside) could encourage you to while away some time based around the hotel though the beach down below is easily reached via the private elevator and a set of stairs. The hotel has their own boats which can take you on private trips along the coastline to visit other villages or towns or take you as far as Capri for a slightly more exclusive introduction to the island. Ravello, Positano and Amalfi are all within easy reach either by car (note that unusually for an Amalfi coast hotel, Casa Angelina has plenty of parking space) or by boat and the choice really depends on you depending on how lazy or active you want to be.In short, then, the Casa Angelina is an excellent choice if you are looking for something a little bit different on the Amalfi Coast with great details, excellent cuisine and out-of-this-world views all set in an ambience where design and comfort take pride of place.

If you're looking for charming luxury hotel on the Amalfi coast, then you're in the right place. It's almost impossible to imagine the level of luxury you'll find at Il San Pietro but it was good enough for the likes of Tina Turner and Dustin Hoffman. As the only luxury hotel in Positano with direct access to its own private beach, a natural cove surrounded by crystal clear waters and complete with a restaurant and bar, it's positioned as one of the most enviable places to stay on the whole of the Amalfi Coast. The facilities are really first class. Make use of the yacht that's available for full day chartering for a truly private experience of the Amalfi Coast or join your fellow guests on a complimentary 2 hour boat cruise complete with cocktails and dips (only from June to September). Practice your tennis skills on the tennis court or lay back and appreciate the panoramic views over the small town of Praiano and the sea from the outdoor pool. Relax in the Turkish baths in the spa or make use of the hotel's 24/7 free shuttle service to Positano and spend the day exploring. After a long day, return to a gourmet dinner at the Michelin star restaurant or a more homely experience at the Carlino restaurant (named after the hotel's founder). Either restaurant has food of the highest standard, made with fruit, herbs, and vegetables from the organic garden that is also used to grow the flowers that you will see around the hotel. You can be assured that everything is organic and environmentally friendly, as in 2016, the kitchen was awarded the most environmentally friendly in the world and most technologically advanced in Europe. Whatever you decide to do, be sure that you'll have an incredible room to come back to, complete with a terrace with ocean views, complimentary minibar, and custom-made hand-painted terracotta tiles made with traditional techniques by the oldest tile-making family on the coast. You'll be surrounded by luxury and comfort, all the ingredients necessary for the perfect relaxing holiday.

Imagine... A historical building of the 18th century, a four-minutes-walk to the beach and a unique view over de golf of Salerno? The hotel Palazzo Suriano Relais de Charme offers it all and much more to make your stay as enjoyable as possible!It's the ideal place for those wishing to escape the tourist boom of Amalfi and Positano and experience an untouched and authentic environment for an affordable price.With only seven rooms, this old Palazzo offers a familiar character, which is full of charm and individuality. Due to the wonderful restoration, the hotel now offers an incomparable oasis to relax body and soul!Every unit is decorated in its own lovely way and provides private bathroom and LED-TV, as well as a safe, mini bar and free Wi-Fi access. Some rooms even offer a balcony with sea view.In the morning, you will find a delicious breakfast with sweet and savoury local specialities that you will be able to enjoy in the wide dining room. Is it a sunny day? Let's enjoy your breakfast on the spacious terrace!At the beach Marina de Vietry (200 m away), you will be able to lean back and take advantage of the pleasant climate.You don't feel like going to the beach? No problem! The gardens of the property offer shadow places as well as a jacuzzi for you to relax.If you caught a bad weather day, the library of the Palazzo welcomes you with historical as well as contemporary books in several languages.But what impressed us the most was certainly the amazing service of Paolo and his crew: They will spare no effort to bring a smile to your face!Uniqueness, quality and authenticity...Your stay at the Palazzo Suriano will be an unforgettable experience!

We can't say that this beautiful small luxury hotel Relais Blu with 11 wonderful rooms is on the Amalfi Coast neither is it Sorrento. Sitting on the very point where the two meet it has something far more precious being perched right on the tip of the two with stunning views across to Capri, just in front, and a 270 degree vista of Mediterranean macchia and deep azure waters.Refined and calm luxury with terrace after terrace nudging you to sit and fall into a trance confronted with the most complete and sensual Mediterranean experience available. Tearing yourself away from the views you might choose to visit Pompei, Positano, Amalfi, Capri, Ischia or one of the other towns or world class archeological sites within easy reach. The more adventurous might like to hire a boat and explore the secret beaches and coves that the Amalfi Coast reveals to those who search a little further or alternatively take part in one of the sub-acqua diving trips that the hotel leads three times a day. The waters below the Relais Blu form part of the Punta Campanella Marine Park with a wonderful display of protected flora and fauna.If all this sounds like too much then stop around for lunch and one of leading chef Christoph Bob's ventures in the freshest and best of local seafood. It's not just the food, though, that has been given great attention. The rooms are all spacious and offer jacuzzis and other little luxurious details to ensure you can drift off in comfort, surrounded by peace and calm. A refined, clean look has been chosen, with plenty of whites and blues to reflect the peacefulness of the Mediterranean and a cool air of relaxation.The Relais Blu opened in 2006 and really is a wonderfully special place to stay, come here for a long weekend and regret that you need to leave such a tranquil haven, visit for a week and really leave behind all earthly worries.

Villa Amalfi is a designer luxury house from the early 70s built in local stone, and is sorrounded by a 15 acre exclusive park of amazing natural beauty. Located in Calcara, it is the perfect destination for those seeking privacy, relaxation and wonderful views.Extending from the main road down to the sea the property includes an amazing coastal bay, and a big (18mx8m) detached infinity pool filled with marine water from the sea bay below it. The property is surrounded by an amazing and beautiful landscape. It counts 6 bedrooms, 7 bathrooms, a sea water infinity pool 18mx7m, a private sea bay and 4 car parks. From every point of the house you will be able to enjoy postcard panoramic views. Embedded into a unique natural environment, the Villa offers refined interiors and exterios, with ample outside spaces with best sun exposure on the Amalfi coast. It stands overlooking Amalfi, Atrani, and Ravello to the south west, the Med to the south, and a 11th century Norman tower to the east. The property also enjoys a great location. It is only 5 minutes to Maiori, 8 to Atrani, 10 to Amalfi, 20 to Ravello. 3 day cleaning are included, exclusive additional cooking service by the house keeper at dinner can be made on easy request.

On the coast of Positano, not far from Naples, you will find a true gem: the Villa Pietra Santa. Here, enjoy your made to order breakfast with a view over the sea (and what a spectacular view it is), sleep in a royally decorated room and simply live the Life of a King and Queen.You can watch the beautiful sunset or the sky full of shining stars at night from the hotel's large terrace. The finely decorated rooms, an excellent service that lacks for nothing, as well as those stunning views allow for complete indulgence. Dreamlike sandy beaches are just a two minute walk away from the property. In the evening, delight your taste buds with exquisite sea food at the port. And the bustling, creative city of Naples is only 30 km away where you will also not only find great cuisine but an amazing city with so much to explore.So, in short: An amazing hotel, a fantastic location, wonderful sandy beaches, glorious views and extremely friendly and caring service — all in an area that has been blesses by nature. What more could you wish for a truly marvellous holiday!

Villa Tozzoli House welcomes its guests with modern luxury in a historic villa, perfectly situated in the historic center of Sorrento. This peaceful apartment offers accommodation for up to four guests. Its garden reflects harmony within a green paradise of lemon and olive trees. The apartment has recently been renovated with a unique attention to detail. The apartment offers two entrances, one opens to a private patio and the double entrance opens to an elegant entrance hall.There is one bedroom with a double bed, that can also be used as two single beds. In the spacious living room, there is a comfortable sofa bed (for 2 guests). Two bathrooms, one of them exceptionally equipped for wellness, and a fully equipped kitchenette ensure the perfect stay. A beautiful terrace with views into the authentic garden is the perfect place to enjoy breakfast or a glass of wine. All in all, the Villa Tozzoli is a truly great location to enjoy and explore the beauty of Amalfi Coast.

This is not one of our typical Secretplaces, but we had to include the location (in the fishing village of Nerano, on the tip of the peninsula) and the charm and friendliness of the owner, Guglielmo.Villarena Relais is located in the more exclusive and more relaxing section of the Sorrento Coast that is rarely seen by visitors and guests. Although it is only a few kilometers from Sorrento and the Amalfi Coast, Nerano is worlds away from the hustle and bustle of neighboring tourist spots. Nerano is a small fishing village that provides privacy, tranquility, and exclusivity that surrounding towns simply cannot offer. The best memories of your Italian vacation will be the ones that just happen. When it comes to planning your Italian get away, it is best to have an amazing place to stay. Then, let spontaneity and freedom take over. Villarena Relais is just that amazing place. With the owner personally welcoming each guest and the entire staff being at your complete disposal, Villarena is a full-service, village resort that offers you an experience unparallel to any other hotel in Italy.Guglielmo took the old building of 1700 with its terraces of lemon and olive (now all certified organic) and restored the property to make four apartments, in fact a simple but comfortable. A swimming pool, large garden with children's play area, gazebo and lots of terraces hidden here and there, say this is a great place to come if you have young ones. The village is quite traditional and not as glamorous as Amalfi or Positano, but we found this was actually a nice surprise as it is less frequented by tourists. The Restaurant (joy of doing nothing) procedure of the place are its young chef, and rightly so - try the seafood pasta and zucchini!So how are the apartments? They have all the necessary equipment to try your hand at cooking local specialties, as well as satellite TV, music systems and DVD players or VHS upon request. The courtyards are available for all to relax in the evening, enjoy an aperitif or just to relax around the house when you do not want to go to venture too far.The Brigante (3) is the smallest of the four of 50 square meters, consisting of a bathroom, a dining room, kitchen, 1 double and 1 small room, both overlooking the sea and islands, where the apartments take their names. Il Gallo Lungo (4) is a bit larger, 60 square meters and has a large living room / kitchen, bathroom, small terrace, 1 double and 1 twin room.La Rotonda (2 +2) is on the first floor and similar in size to the Gallo Lungo. The entrance opens onto a small sitting area with sofa bed leading to the bathroom, kitchen and small dining room and a private balcony with sea view. A double bedroom leads off the living room.La Vetara suite apartment (4) is the largest of the apartments at 90 square meters and is located on the first floor. The entrance opens onto the living room / dining room with fireplace and kitchenette. The double room has a bathroom with shower, double that of a bathroom. What really distinguishes this apartment is off even if the terrace overlooking the gardens to the sea.The apartments are not on sophistication, trend, design or style chic. They are all superbly clean and inviting spaces, perfect for a break to explore the rich history and beautiful nature area. William was one of the best guests we met on this journey and his love for review Nerano and the Amalfi Coast, in general, really shows. He is enthusiastic and knowledgeable and always ready to lend a hand with planning boat trips to Capri in whole or picnic in the hills. Great job Guglielmo!