Fine cuisine Boutique & Romantic Hotels in Barcelona, Spain
Sort by price: Lowest | Highest



Prices for this hotel are shown as estimates. They change regularly depending on a number of factors, including availability, so please check av...
Price: from 160.00 EUR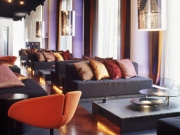 Striking contemporary design in the historic heart of Barcelona.
You simply can't fault the Hotel Cram's location. Close by to the Ramblas and...
Price: from 130.00 EUR